7 Fascinating Antelope Canyon Facts
There is a lot of history and stories associated with Antelope Canyon facts. The more you learn about this great canyon, the more you will enjoy it as you walk through and see the fabulous sites it has to offer. While learning about Antelope Canyon, know that you do not have to remember all of these. It is good to have these Antelope Canyon facts on hand so you can refer to them while you plan your trip to Northern Arizona.
Antelope Canyon is truly breathtaking, with the brilliant colors and sun streaming through it. The more you know about the history and culture of this place, the better. This fascinating information has the potential to vastly deepen your appreciation and understanding of the people and history of Antelope Canyon.
Learning basic information about Antelope Canyon also has the potential to make your trip planning much easier. Typically the more planning you can do ahead of time, the more freedom you have to enjoy your vacation. After figuring out how to get a tour, when to go, and what to expect, you won't be surprised or stressed when you go to see this gorgeous canyon.
United States
The of many Antelope Canyon facts that you need to know is that it is located in Arizona, USA. Arizona is a southwestern state, that officially joined the union in 1912.  Antelope Canyon is located in Northern Arizona. It is close to the border of the State of Utah.
Most people will find time to see sites in both Utah and Arizona. There are many different sites in this area, making it a popular vacation destination. The great thing about this area as a vacation destination is that these sites are close to each other. This allows you to not have to travel far to see and do different activities.
Navajo Nation
The next thing that you need to know is that Antelope Canyon is part of the Navajo Nation. The Navajos are a Native American tribe located within the Southwest region of the United States. They are the largest Native tribe known to the United States with federally registration.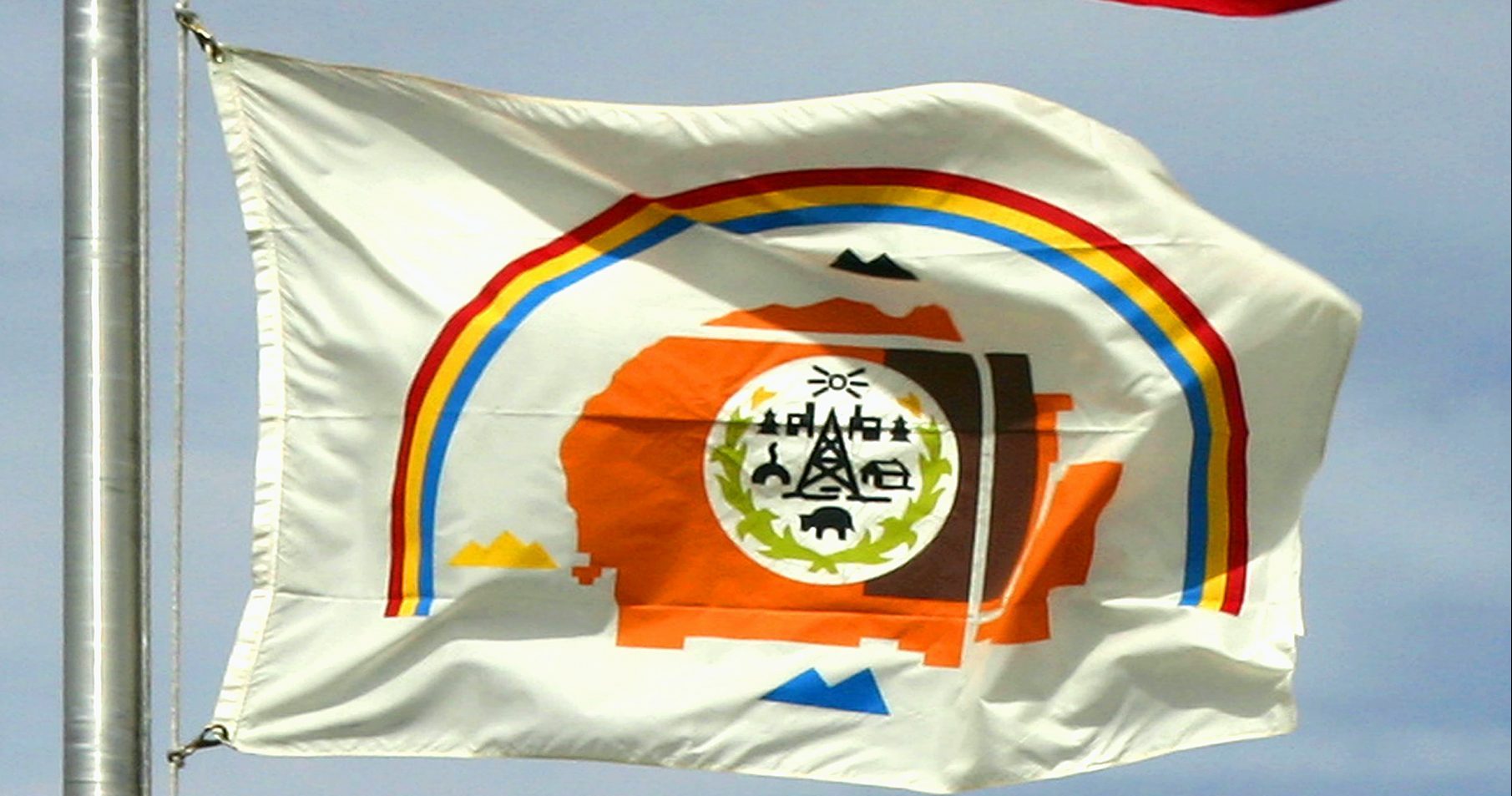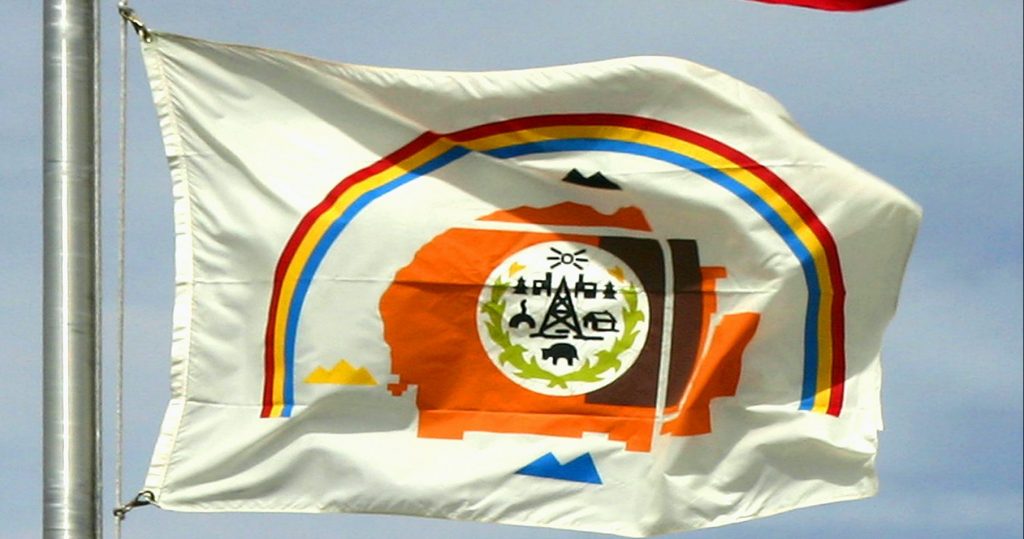 There are a lot of questions that arise concerning the topic of visiting Navajo Nation land. The main thing that you need to know is that Native Americans still live on this land today. There are certain sites that require you to have a certified tour guide with you to explore the site. Not all sites require a tour guide, so you will have to do some research before you go. It is important to note that Antelope Canyon does require you to have a tour guide to get into the canyon.
Navajo Nation stretches over the states of Arizona, Utah, and New Mexico. Take a look at the places you want to visit and see if they are on Navajo Nation land. The best thing to do is to be respectful to the land and the people who call this land home.
Visit Antelope Canyon
Now onto the main event, visiting Antelope Canyon. Most people plan on going into the canyon, hiking it, taking in the sunlight streaming through it, and snapping memorable photos. How do you do this? What do you need to do to get into the canyon? 
Since you need a guided tour, you will want to find a certified guide. Lower Antelope Canyon Tours is a tour guide company that focuses specifically on Lower Antelope Canyon. Tours need to be booked online and before you go. Once you have booked your tour, you will want to follow the tour instructions. 
Antelope Canyon Facts – Guided Tours
Antelope Canyon fact #4, you have to have a tour guide to get into the canyon. You will not be allowed into Antelope Canyon without a tour guide. We take pride in our staff, specifically our great tour guides. They are responsible for giving you an unforgettable tour that you will fondly remember for years to come.
Our guides are empathetic, knowledgeable, and prepared. They are CPR certified and have first aid supplies on them at all times during the tour. You can expect nothing but professionalism and friendliness as they take you through Lower Antelope Canyon. They follow professional dress codes, Covid policies, and are ready to tell you all about the local wildlife and history of the canyon.
Antelope Canyon Tours
Lower Antelope Canyon Tours currently has two different tour options to choose from. The first tour option is the classic Antelope Canyon Tour. You will meet at our tour office several minutes before your tour time. Look at your email for the specific timeline and instructions. From there, you will be greeted by your tour guide and board the bus. You will be dropped off at Antelope Canyon and allowed to go inside and see the canyon.
The next tour is a newer tour that has taken off with great success. This is our Tį́' Let's Cruise Tour or TLC Tour. It is an all-day experience that takes you around to several different places, including Antelope Canyon. After hiking the canyon, you will go to Navajo National Monument, Monument Valley, and stop for lunch. 
The Canyon is a Slot Canyon
A slot canyon is typically formed from soft rock that piles on top of each other. This is how you get the layered stripes throughout the canyon. They are also known for being narrow, tight, and tall. This requires single file lines when hiking in some areas of the canyon. 
Rock Formation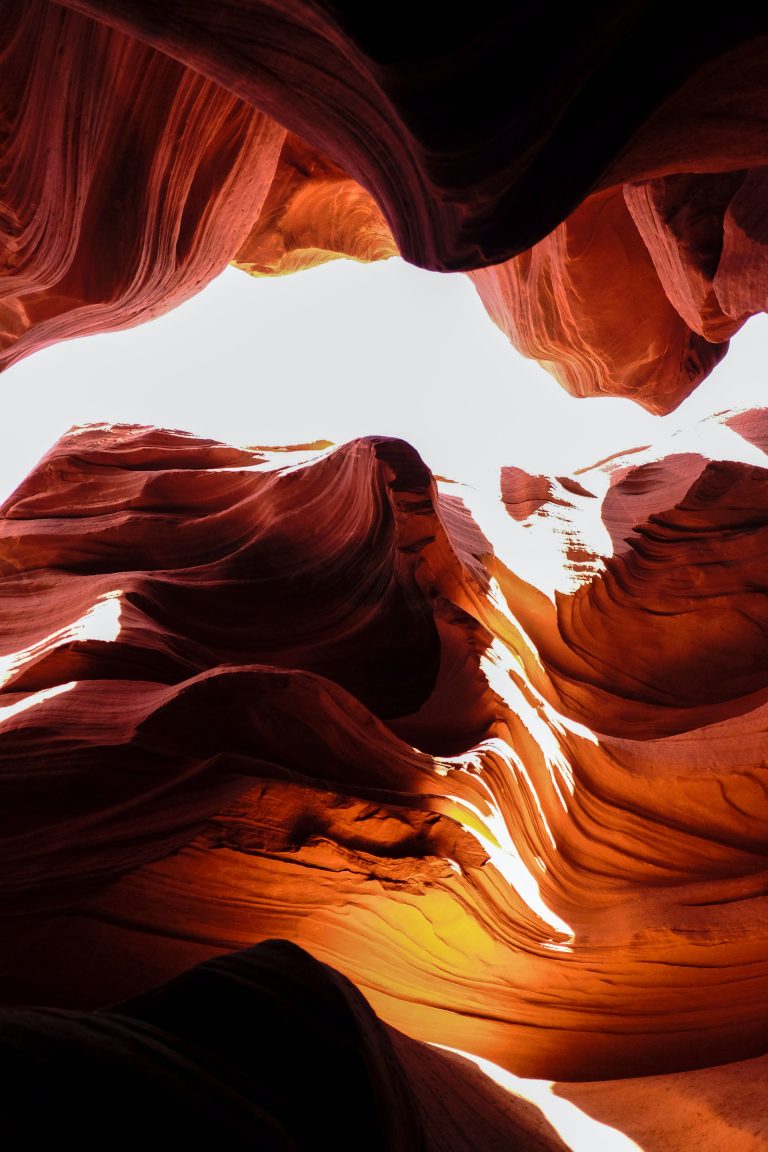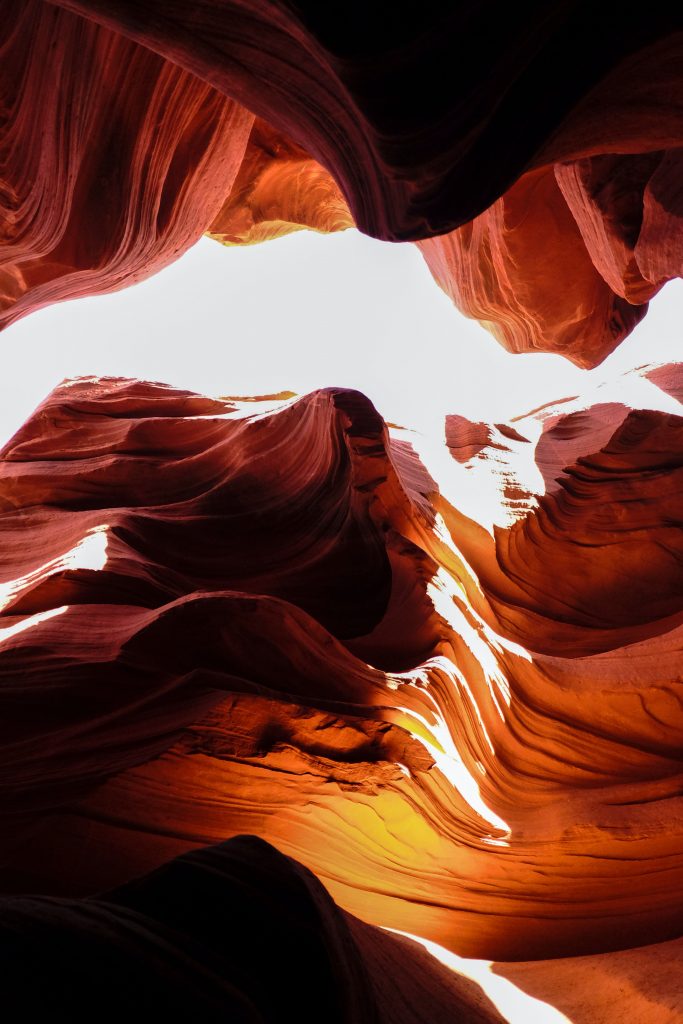 Other cool Antelope Canyon facts include that it is made out of sandstone, along with the fact that Antelope Canyon was formed by rain slowly carving out areas of the canyon. This is a process that does not happen overnight. It takes significant amounts of time for something like Antelope Canyon to form. To make this canyon even more interesting, the view from the top makes it look like it is a small opening.
When you get down into the canyon, you will see the work that the water has done. It is more carved out than the top of the canyon. This is how the sunlight beams stream through the canyon. 
Flash Flooding 
While this canyon is beautiful and lovely, it can get become dangerous. Flash flooding is known to happen in the desert area, especially in the Southwestern region. One of the more somber Antelope Canyon facts is that accidents have happened inside the canyon. Increased safety measures have been taken to avoid these accidents in the future. 
One of the new safety measures being taken is not allowing people enter the canyon when it has rained. Flash flooding can happen even when it has not rained over the canyon. Ladders are bolted to the canyon so there is something to grab onto if flash flooding does happen. Be safe and follow all instructions from your tour guide.
Antelope Canyon Facts – A Photographed Slot Canyon
There are photographers that come from all over the world to see this amazing slot canyon and photograph it. You can find many photos online that highlight the vibrant colors of the canyon with its iconic sunlight beams. These photos are gorgeous enough to tempt those who don't enjoy hiking to visit this unique canyon. Take your phone or camera with you and take some photos, you never know what you will capture inside the beautiful canyon.
High in the Sky – Great Photo Opportunities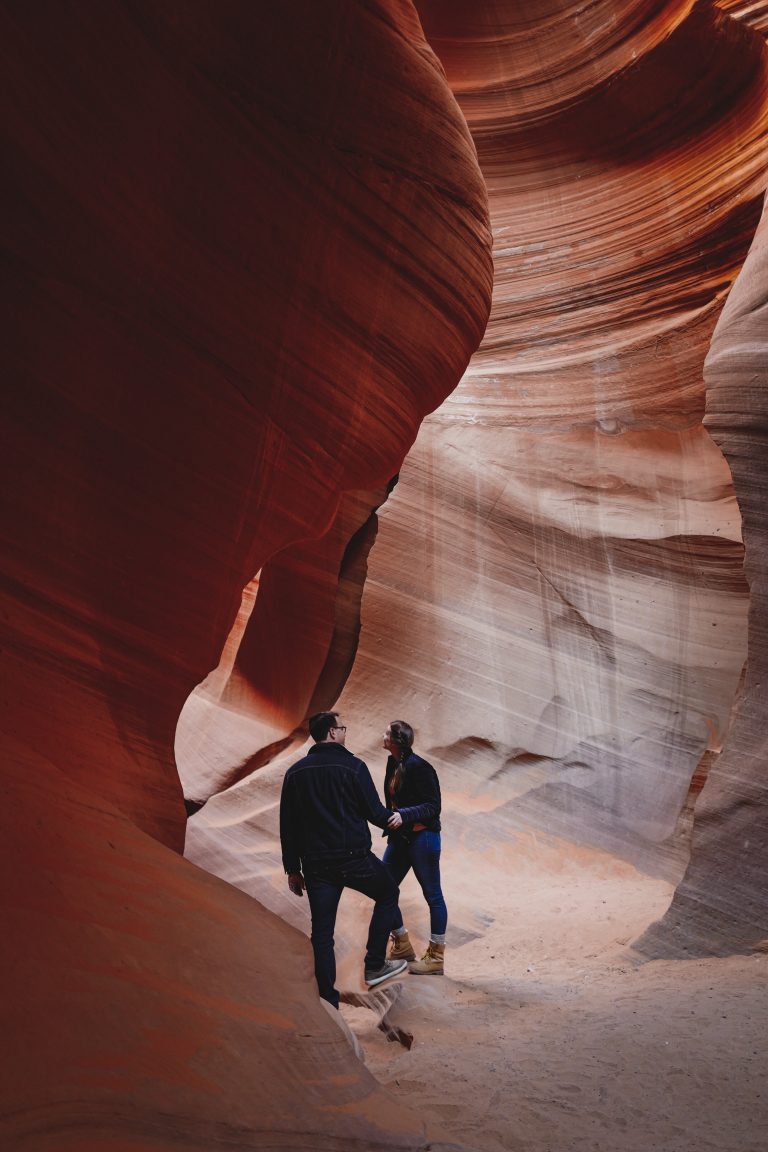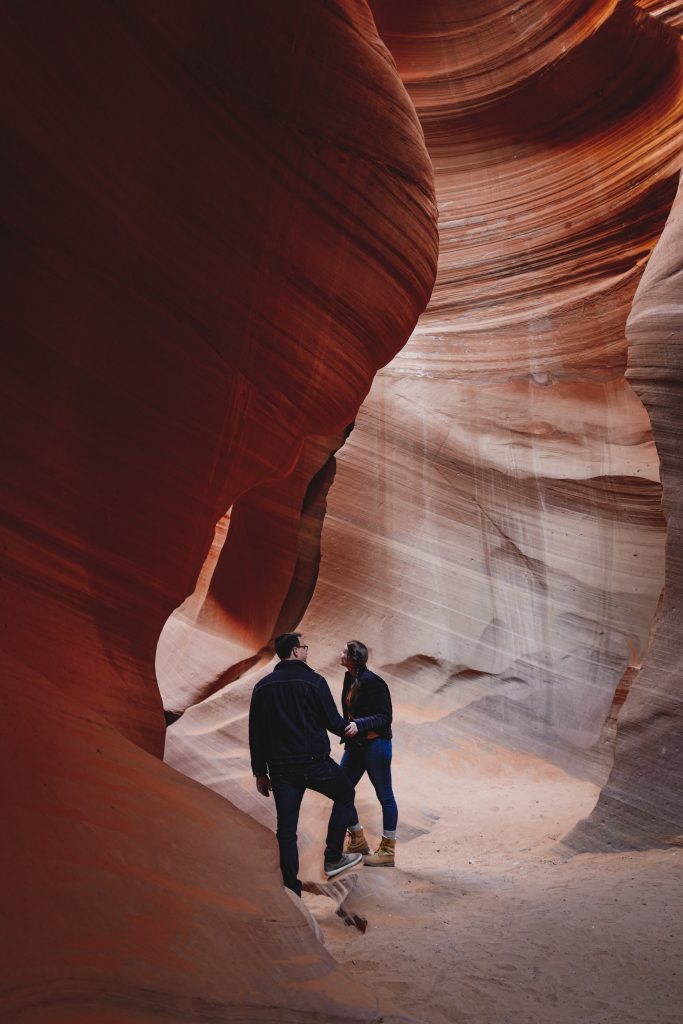 One of the most common Antelope Canyon facts is that Antelope Canyon is a great canyon for photos and images. One thing that people do not think about is the different ways to see Antelope Canyon. If you want something special, you can see Antelope Canyon from a helicopter. This is something that not everyone chooses but it is available if you want to do something different.
Another one of the most common Antelope Canyon facts is that visitors have the fabulous option to do a full-day tour. With the TLC Tour offered by Dixie's Lower Antelope Canyon Tours, you can see a good part of the Southwest in a day. This lets you see several sites with a tour guide. We recommend this tour if you don't want to drive around to see all of these different sites. You will be with a tour guide the whole time from the comfort of an air-conditioned bus.
Ready to take the next step and book a tour of Antelope Canyon? Visit Lower Antelope Canyon Tours to book a tour and make your dream of seeing Antelope Canyon a reality. If you have any questions or want more specifics about the tours and experiences we offer, give our office a call at (928) 640-1761. We look forward to hearing from you!