Is Lower Antelope Canyon Kid-Friendly? 100% Yes!
We often get asked, "Is Lower Antelope Canyon kid-friendly?". The short answer is yes, Lower Antelope Canyon is most definitely a kid-friendly destination. The long answer takes some explaining, so let's explore what makes this beautiful slot canyon a sought-after spot for families with children. 
Lower Antelope Canyon is Not Like Upper Antelope Canyon
If you aren't familiar with Antelope Canyon, it is important to understand that Upper Antelope Canyon and Lower Antelope Canyon have some significant differences.
Upper Antelope Canyon is more of a long and level hike, while Lower Antelope Canyon has more variation to it. This makes for an incredible family outing with twists and turns, highs and lows, and eye-catching scenery you won't get anywhere else.
Although they're both slot canyons filled with gorgeous dessert landscapes, the simplicity of the Upper Canyon might come across as boring to some. The adventure awaits in the Lower Canyon, particularly if you hope to entertain children and teens. 
The Different Layouts of Each Canyon
You can't beat the unique geographical features of the Lower Canyon. The Upper Canyon is wide and shaped like the letter A. The Lower Canyon is narrower and V-shaped, which makes all the difference.
The shape of the Lower Canyon allows the sunlight to shine through, while the Upper Canyon is darker and more shadowed. Once you see the Lower Canyon, you will never forget how the sun catches the light off the canyon walls.
Not to mention, this sunnier experience creates amazing photo opportunities. If you're hoping to capture priceless photos of your children, the Lower Antelope Canyon tour is for you.
The Lower Canyon is a Less Crowded Option
If you choose to tour the Upper Canyon, be prepared for the crowd. The Upper Canyon tends to be busier compared to the Lower Canyon. Many people find that managing a crammed slot canyon with children in tow isn't fun. More importantly, no parent wants to be worried about losing sight of their child amongst a large group of people, all while trying to enjoy the great outdoors.
Also, don't be surprised to find Upper Canyon tour goers trying to record a TikTok or two. Whether it's for a YouTube channel or Instagram story, influencers flock to Upper Antelope Canyon.
How We Address Crowd Control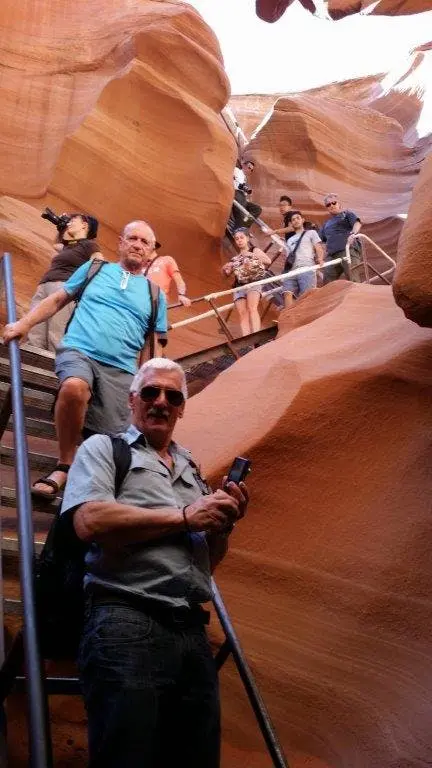 On our Lower Canyon tours, we limit group sizes to ensure that each individual has plenty of room to explore the slot canyon. Due to these small numbers, we offer a more personalized, kid-friendly tour than what you can find on the Upper Canyon. Less foot traffic creates an intimate and quieter experience.
Plus, we hand-select our Antelope Canyon tour guides to make sure you get a personable, enlightening, and fun tour. You won't feel rushed, nor will you feel like just another number in a long line of hikers.
A Tour Without Bypassing Jeeps
Along with the crowded conditions, the Upper Canyon allows Jeep tours. We pass this information along so that those who are trying to decide between the Upper Canyon and Lower Canyon can make an informed decision.
If you are specifically seeking an escape from the hustle and bustle of the world, the last thing you want to see is a passing Jeep. 
Not Only Is Lower Antelope Canyon Kid-Friendly, It's Safe Too
The safety of you and your children is of top priority to our tour guides. As part of our tour guide selection process, we look to hire professional and responsible individuals that take safety seriously.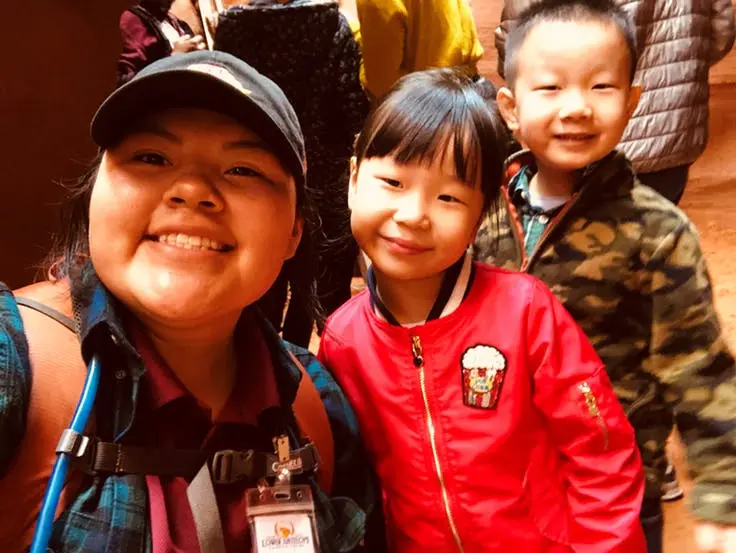 You will notice that we do require all participants to sign several papers before beginning the tour. While we must have those papers completed for legality purposes. Our check-in procedures also help you gather information about the canyon and let you know what to expect from our tour.
The more knowledge you have about what's to come, the better prepared you can be. Remember those geographical differences between the Upper Canyon and Lower Canyon? The Lower Canyon tour involves stairs and ladders, so it is best to bring children that are comfortable climbing a ladder or two.
Every ladder is bolted to the walls of the canyon. Plus, the stairs and ladders are equipped with safety handrails. We want your family to feel safe and enjoy the slot canyon without injury or mishap.
The Protocol for Toddler-Aged Children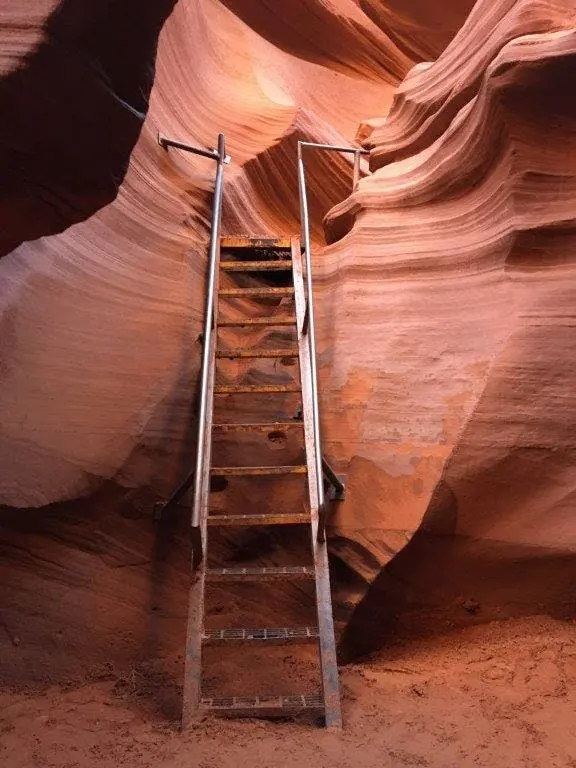 What about those young children that cannot climb a ladder? Don't worry, they can still join in the fun.
Baby carriers are allowed and welcomed. In fact, we request that kiddos two years old and under be placed in a hiking backpack while on the tour. If you prefer a child wrap or baby sling over a backpack-type carrier, that is perfectly fine as well.
The Time Commitment of a Guided Hiking Tour
Our guided hiking tours take roughly an hour from start to finish, but we do ask for the entire party to arrive approximately 30-45 minutes before the designated tour time. This means you can anticipate spending a minimum of 1.5 hours total at our Canyon site location.
Is Lower Antelope Canyon Kid-Friendly and Pet-Friendly?
Pets are not allowed on any of our tours. In addition, we do not have a kennel service available.
We kindly ask all participants to not bring pets of any kind to the tour, whether personal, therapeutic, or service animals.
A Tour that Won't Break the Bank
Upper and Lower Antelope Canyon tours vary in price. If you have multiple children, a canyon tour can get expensive as you add on more and more individuals.
Here at Dixie's Lower Antelope Canyon Tours, our goal is to provide not just a family-friendly activity, but a budget-friendly one as well. We strive to offer the best tour at the best price possible.
When it comes to pricing, some companies do not include the required entrance fees in their tour prices. Imagine discovering at the last minute that you owe more money to simply begin your tour.
In comparison, we structure our tour prices to include all the permit fees and costs required to access the Lower Canyon. We do not want our guests to be caught off-guard with unexpected price variations.
Better yet, if the tour is canceled due to weather conditions, you get a full refund.
Are You Ready to Book a Lower Antelope Canyon Tour?
If you are searching for a kid-friendly destination, look no further!
A Lower Antelope Canyon tour is the perfect place to make memories with those you love, young and old.
We live up to our motto – "Not just a tour, but an adventure." For the thrill-seekers in your life, the Lower Canyon tour is sure to impress. 
Do you have any additional questions? Check out our FAQ page.
Are you ready to book your tour? Complete our online form or give us a call. 
We can't wait to meet you and your youngsters! See you soon!