Antelope Canyon During Off Peak Season
So what's been stopping you?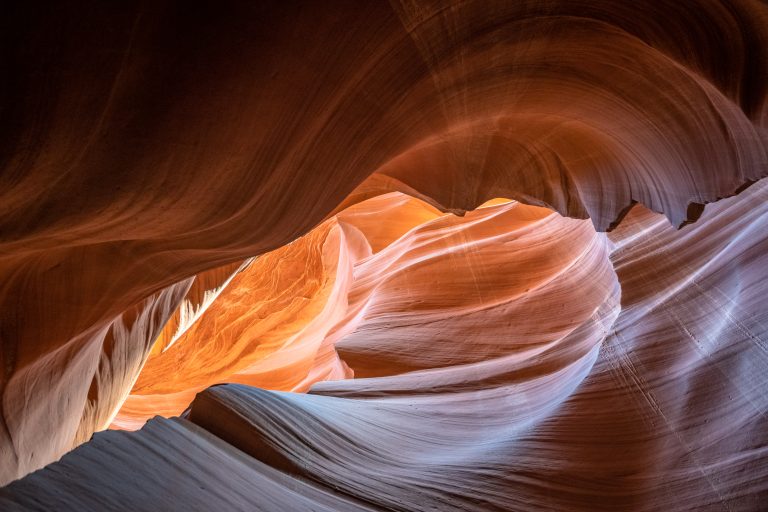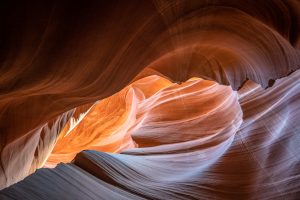 For many people, the thought of being lost within the large crowds shuffling through the narrow walls of the slot canyon makes them uneasy.  No one likes being rushed, but it's difficult not to feel that way when you stop to try to take the perfect picture.
Many of us are not professional photographers, so when the first couple shots don't look the way you want, or at least don't capture the stunning visuals you are witnessing, you need to try again and take more pictures.  But that can lead to some increasingly irritable tourists, who are waiting patiently for you to finish so they can move through – or try to take that same great photo for themselves.  So you hurry to take your photos and move along as quickly as possible before checking them, only to find out you've been photobombed by one of those tourists, or the photo didn't come out the way you hoped.  And now you can't go back..
There is something almost inherently inconsistent and unnatural about large crowds visiting a landmark many Navajo locals consider to be sacred and holy.  Visiting Antelope Canyon is more than just a photo op, it can, and should, be a deeply spiritual and cultural experience.
Traditionally, before any Navajo enters the canyon, they are required to pause at the entrance to collect themselves and prepare their mind and spirit – so they may only enter with a sound, respectful frame of mind.  Navajo culture holds that if one is not of sound mind before entering the slot canyon, that if they do not fully understand their purpose for entering, then that person's spirit would be caught up in the same powerful, natural vortex that created the canyon over millions of years.  It is also believed that Holy people live inside the canyon, known as 'Tsé Yáłti' and 'Tsé Naajiin, and that they are to be respected and left in peace.
So it stands to reason that one cannot pause to calm their mind and spirit while anxious, travel weary tourists are crowded in behind you, gently nudging you to keep it moving.  At the very least, impolite crowds can disrupt and ruin what should be a genuine spiritual, life-changing experience.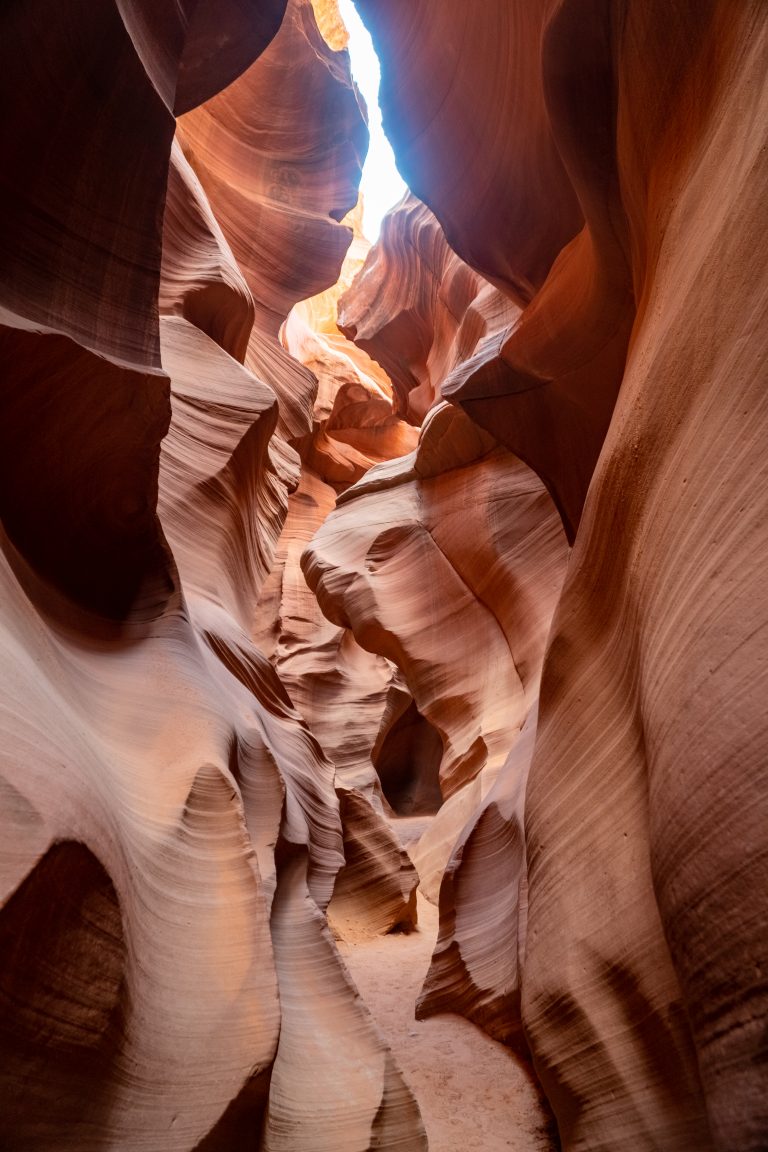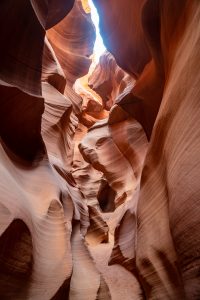 But what if you could visit the incredible Antelope Canyon slot canyon without the large crowds and lines?  Well, you can.  And it's easier and simpler than you think.
Tourism is welcome at both Upper and Lower Antelope Canyon year round.  But most people tend to visit during the spring and summer "peak season" months.  That leaves the so-called off-season between October and March wide open for those that want to take their time and soak in the canyon's beauty at their own pace.
Summer and spring are more popular times for visitors simply because of the warmer weather, and theoretically less chance of overcast or rainy skies that could reduce the sunlight into the canyon.  Sunlight radiating throughout the canyon gives the canyon walls their spectacular colors and aurora, which attracts photographers and videographers from around the world.
However, Antelope Canyon is still within the arid, desert boundaries of the Navajo Nation, located within Northern Arizona.  Some summer days can see temperatures exceed 100 degrees, which can be very difficult for tourists not accustomed to extreme heat.  In fact, the most recent summer saw record temperatures in the area, including temperatures exceeding 100 degrees for most of July – traditionally Antelope Canyon's busiest month.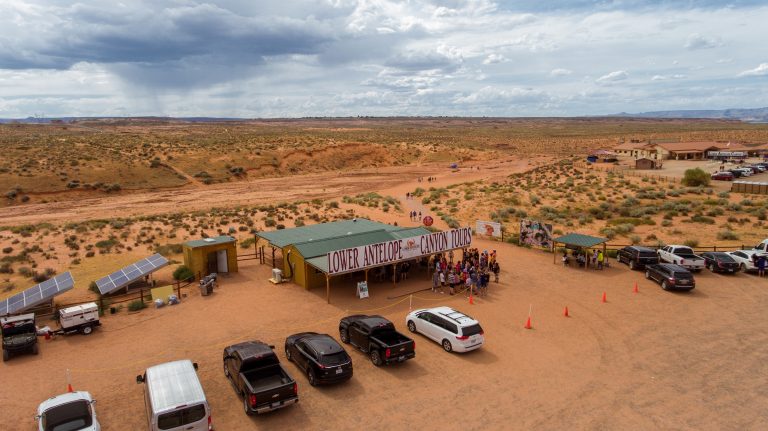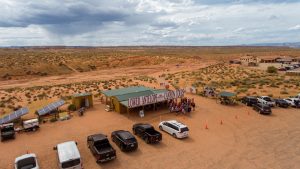 Yet the average temperatures in October range between 70 degrees and 49 degrees.   In November, the high is around 57 degrees and the low averages 37 degrees.  December and January – the two coldest months – are usually a high of 45 and low of 30 degrees.  Then of course the temperatures begin to creep back up in February before heading into the six months of Antelope Canyon's peak season beginning in March.
For tourists arriving from Europe, Canada or northern parts of the United States, for example, these temperatures are hardly going to scare anyone away.  In fact, 45 or 55 degrees is outdoor weather for many of them.  There are also very few days of rain or snow during the off-season, so the chances of visiting Antelope Canyon while the sun is shining through the canyon openings during those months are still very good.
The winter months also sometimes give visitors a special treat – the extraordinary desert landscape dusted with snow.
Page, Arizona only receives an average of two inches of snow each year, so there are no blizzards, or any occasion where desert plants or landmarks are completely covered.  But the light dusting that occurs from time to time makes for some extraordinary photographs.  The white desert landscape also allows for local wildlife, and their tracks, to be easily spotted from just about anywhere.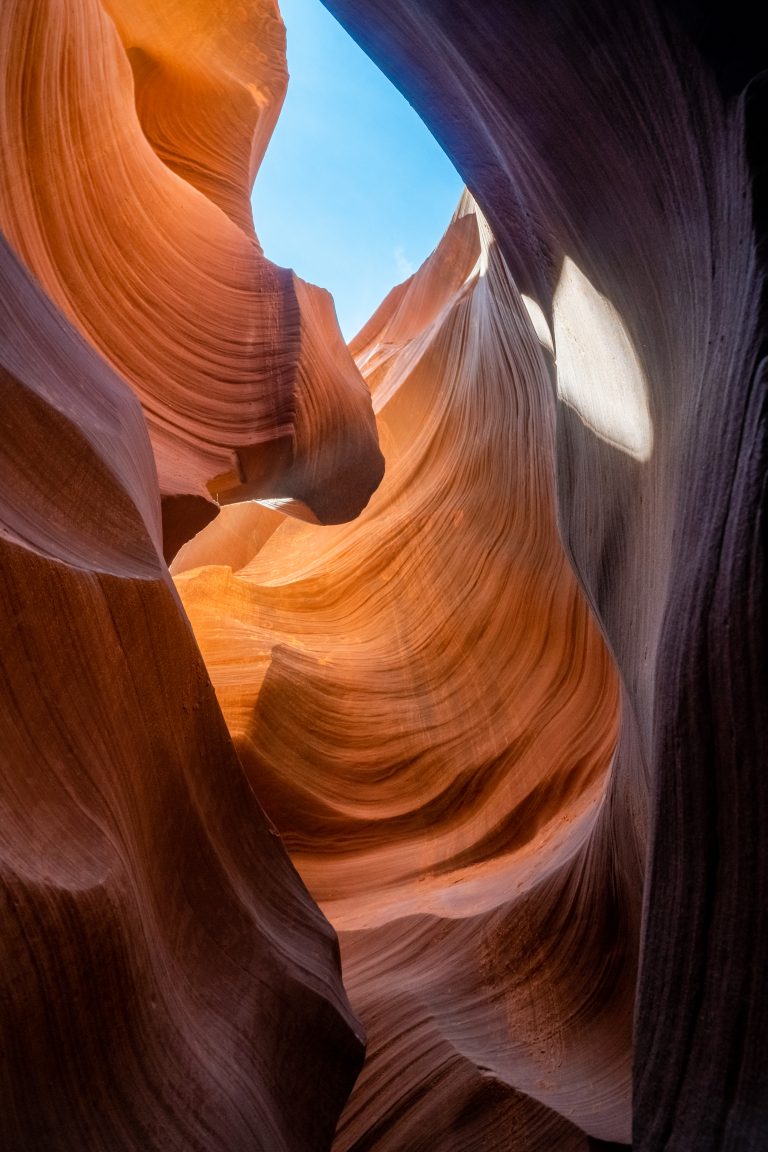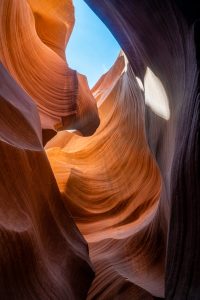 In addition, it's a fairly little-known secret, but the walls of Antelope Canyon actually change colors during the off-peak season.  Instead of the red, orange contrasts often seen (and photographed) in the summer, there are beautiful hues of blues, purples and pinks. It is quite extraordinary, something you have to see for yourself (and show your friends who posted their Antelope Canyon pictures on Instagram during the summer what they've missed out on).
There's also another good reason for visiting Antelope Canyon in the off-peak months – it's a heck of a lot cheaper.  No small thing in times of economic uncertainty and inflation.  Guided tours can be had at a significantly less expensive rate during the off-season, especially winter, despite the fact that you are still getting the exact same professional, Navajo guided tour that occurs every day in the summer.
The least expensive month to visit Antelope Canyon is in January, where hotel rooms can often be found for half their normal summer rates.  It's also easier to find cheaper flights and other accommodations during the winter.  But really anytime between October and March you will find guided tours to be far more affordable than during the summer – especially if you choose to visit on weekdays instead of weekends.  Some weekdays – such as Tuesday or Wednesday – sometimes do not sell out in the off season, meaning not only more money in your pocket, but fewer people and lines that will make your day more enjoyable.
Now of course, there are some drawbacks.  The famous light beams found in the Upper Antelope Canyon do not begin appearing until March, so you have to visit during peak season in order to see them.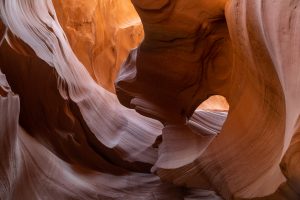 Also, while rare, sub-freezing temperatures can happen, meaning you will need to bundle up (the floor of the canyon is about 10 degrees cooler than the surface), and you will need to be more mindful of ice forming on the floor or staircases for your own safety.  Always pack accordingly, and make sure you have sturdy (and waterproof) boots and other accessories to keep warm and dry.
But overall, there may be no better bang for your buck than visiting Antelope Canyon during the off-peak season of October through March.  In addition to the slot canyon, nearby attractions such as Lake Powell and the City of Page have amazing holiday decorations and festivities in December.
So don't let a fear of crowds or keeping within your budget prevent you from seeing one of the most incredible natural wonders on Earth firsthand.  The knowledgeable Navajo tour guides that guide tens of thousands of tourists during the summer months are still around, and happy to make your trip memorable no matter what time of year you visit.
One of the best tours in Lower Antelope Canyon, Dixie's, excels at off-peak tourism and can help get you situated, no matter where you are traveling from.  Keep in mind that Dixie's recommends you book your reservation between the hours of 10:15 thru 1:15PM (local time) in the winter, to get the most out of your vacation.
So now that you are out of excuses, start planning that trip to Antelope Canyon.  There's no excuse anymore not to.