Visit Lower Antelope Canyon this Winter
There is something to be said for the traveler who visits places in the offseason. Winter is an exciting time to travel somewhere new, so why not make a trip to Antelope Canyon? There are many benefits to traveling in the offseason, especially to the gorgeous area of Northern Arizona. Cooler weather, fewer crowds, and a slower pace are all reasons to come travel to Antelope Canyon during the winter.
REASONS TO VIST DIXIE'S LOWER ANTELOPE CANYON THIS WINTER!
Excluding holidays, NO CROWDS, this means capturing photos without getting photobombed.
Engage an intimate and sometimes spiritual experience with fewer crowds.
Enjoy the undivided attention from your guide who will share with you the traditional and cultural background of the Navajo people, geographical information, and facts of Antelope Canyon and surrounding area.
Winter's cooler contrasts are equally parallel to Summers sharp contrasts.  Capture stunning cooler hues of blues, purples, pinks, and oranges, these shots cannot be caught during the Summer months.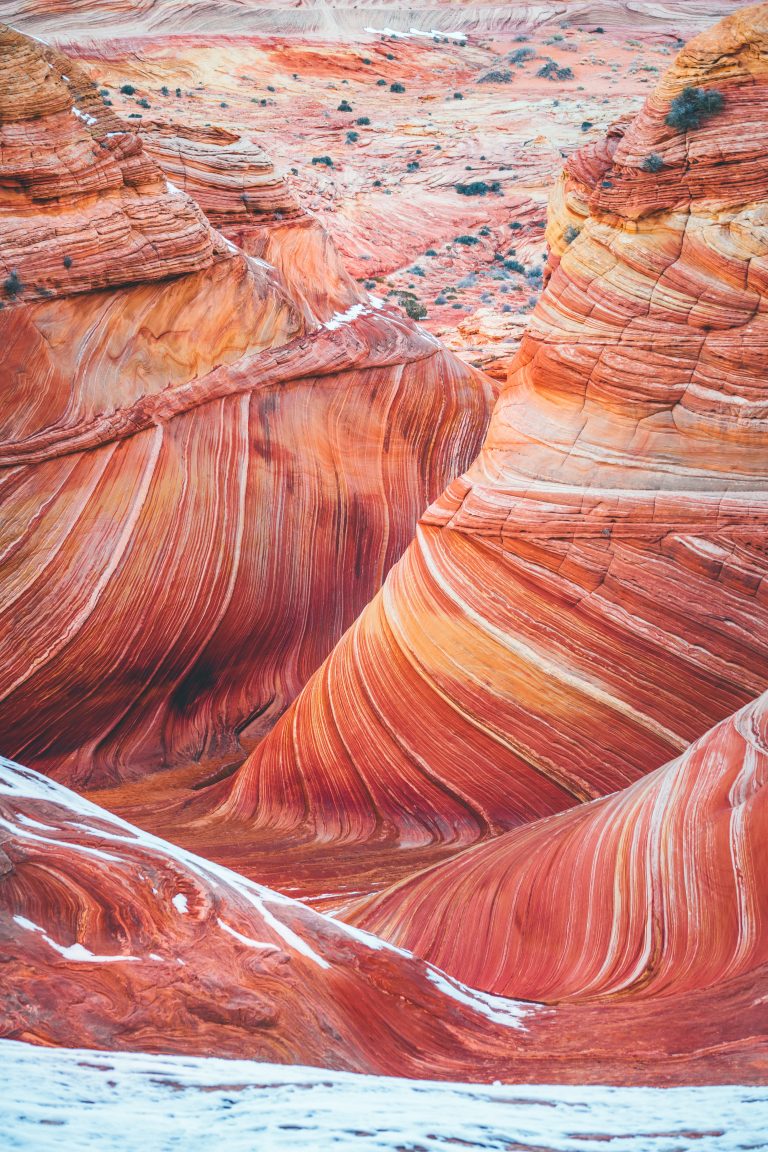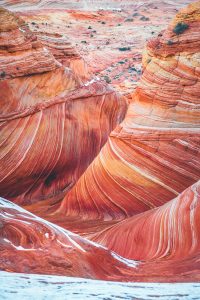 Be Instagram ready!  Why wait to filter your picture on Instagram when you can preset your cameras or smart phones to post photo ready pictures.  Your guide will teach you and/or instruct you on how, when, where to take phenomenal photos by adjusting your camera or phone settings.
Weather temperature is an additional perk of visiting during the Winter. Summer heat in Arizona can be unbearable, therefore a winter hike through Lower Antelope Canyon could be more enjoyable.
Please be aware the best time to book your reservation during the Winter months is between the hours of 10:15 thru 1:15PM.
THINGS TO DO NEAR PAGE
Since Page is near the border of Southern Utah, why not go up north to the State of Utah? Utah and Arizona are home to Lake Powell. It is a man-made lake that is great for boating, water sports, or just a fun day out on the lake. It also has some lodging options such as boats on the river. Rental options are also available if you want to rent a boat for the day.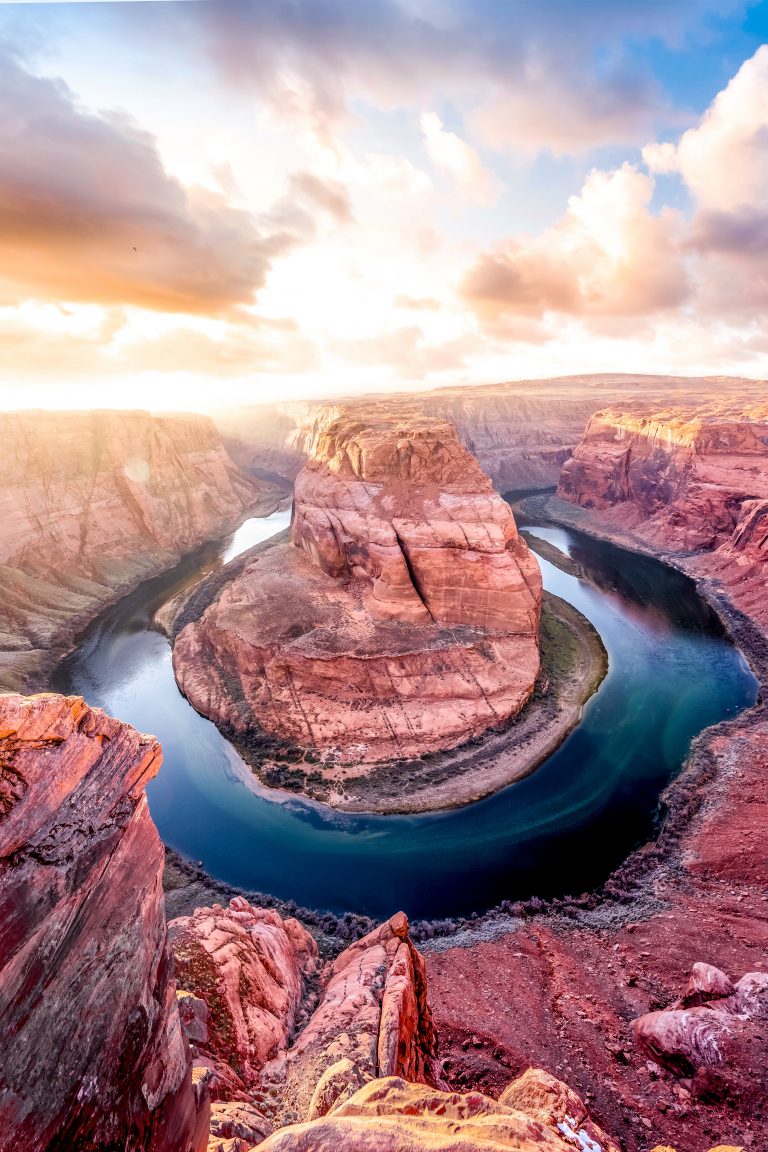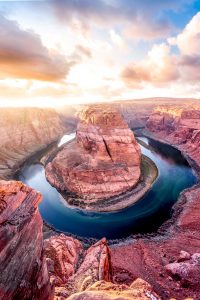 While in Page, Arizona, visit the breathtaking and awe-inspiring Horseshoe Bend, Wahweap's picturesque overlook, and the Glen Canyon Dam and its Visitor Center and their spectacular gift shop! These are 3 hidden gems that are often missed by guests when visiting Page, Arizona.
Since Antelope Canyon is on Navajo Nation land, you are close to several great Navajo sites such as the Navajo Village Heritage Center. Here you can learn more about the history and culture of the Navajo people. You may be able to catch a live demonstration or performance.
If you have worked up an appetite from all of your travels, try some authentic Navajo food. Navajo Tacos is a great restaurant that we recommend you try. There are other local places that highlight the local cuisine of the area. If you are not feeling too adventurous with food, we do recommend you try some street tacos. 
If you are looking for something out of the ordinary. Try visiting GunFighter Canyon to experience Arizona's premier machine gun experience and indoor shooting range. Or take a bird's eye view of Horseshoe Bend, Tower Butte and surrounding area with Papillon Grand Canyon Helicopters.
ACCOMMODATIONS
The closest city to Lower Antelope Canyon is Page, Arizona. It has a population of around 7,200. Page, AZ will get crowded during the spring, summer, and even early fall months. This can make it hard for tourists and visitors to find lodging during these seasons. The city has taken measures to accommodate such crowds by providing more lodging options. You can find a variety of lodging options if you want to stay in Page, Arizona. This includes hotels, motels, camping, and RV sites.
When visiting the greater Page area during the Winter months, affordable lodging and availability are easier to secure.  We highly recommend booking with Hampton Inn & Suites located just 8.2 miles from Lower Antelope Canyon.
Since the winter is not the busy time of the year, you can find excellent lodging during the winter months. Popular sites do not be book out or fill up as quickly. Usually when this happens hotel spots will lower their prices or give you rooms at a discounted rate. This means you can save some money while traveling without all of the crowds. 
While it can be tempting to want to camp out, keep in mind that the weather can get cold. The lows for the weather are typically in the high 20s (Fahrenheit). Highs during the daytime fall around the mid to low 50s. Camping is still an option for you, just prepare yourself to have some heat sources to keep yourself warm during the night. Because of low traveling traffic, RV and camping sites may close down during the winter. Make sure to check their site or give them a call to see if they are open when you want to come to visit Antelope Canyon.